Frequently Asked Questions
Surgery Center of Oklahoma FAQs
We want to be sure all of your questions are answered before you undergo any procedure at Surgery Center of Oklahoma. If you have any further questions, please don't hesitate to contact us.
What is included in the listed price?
Should you be a candidate for surgery, the facility fee, surgeon's fee and anesthesiologist's fee are included in the price. Find your surgery on the Surgery Pricing page for details and check the Pricing Disclaimer for some of the rare exceptions to our comprehensive pricing, such as implants for certain orthopedic procedures.
Who do I contact if I have questions?
Please contact us at your convenience. We welcome your calls.
How long is the quoted price valid?
Quotes are valid for 60 days, but our prices are unlikely to change. In fact, from the day we opened our doors, our prices didn't increase for about 25 years – until inflation finally forced some adjustments.
What if the physician doesn't believe I am a surgical candidate?
You are only responsible for the $250 physician consultation fee.
Who will I pay?
All payments are made to Atlas Billing Company except the surgical consultation fee which will be due and collected at the surgeon's office.
What methods of payment are acceptable?
To keep our prices as low as possible, cashier's checks or cash are our preferred payment methods, but we also accept credit and debit cards. Human resource departments or divisions of self-insured companies can make other arrangements if necessary.
How will a surgeon be selected for me?
If you don't have a preference, an appropriate surgeon will be selected from our qualified staff.
May I stay overnight in the facility?
Overnight stays are not usually necessary, but arrangements can be made for an additional charge. Room for one family member is available as well.
What is the rate of infection at this facility?
Wherever you decide to have your surgery, you should inquire about the rate of infection in their facility. Our infection rate for 2021 was 0.0%. Listed below is our infection summary over the last 16 years:
2021 – 0.0%
2020 – 0.18%
2019 – 0.14%
2018 – 0.21%
2017 – 0.09%
2016 – 0.1%
2015 – 0.008%
2014 – 0.05%
2013 – 0.13%
2012 – 0.015%
2011 – 0.05%
2010 – 0.001%
2009 – 0.001%
2008 – 0.4%
2007 – 0.2%
2006 – 0.3%
These percentages have been and remain astoundingly low compared with the estimated national average of 2.6% per year.
Do I need to bring a companion on the day of the surgery?
All patients will require a companion for transport to and from the surgery center for your safety.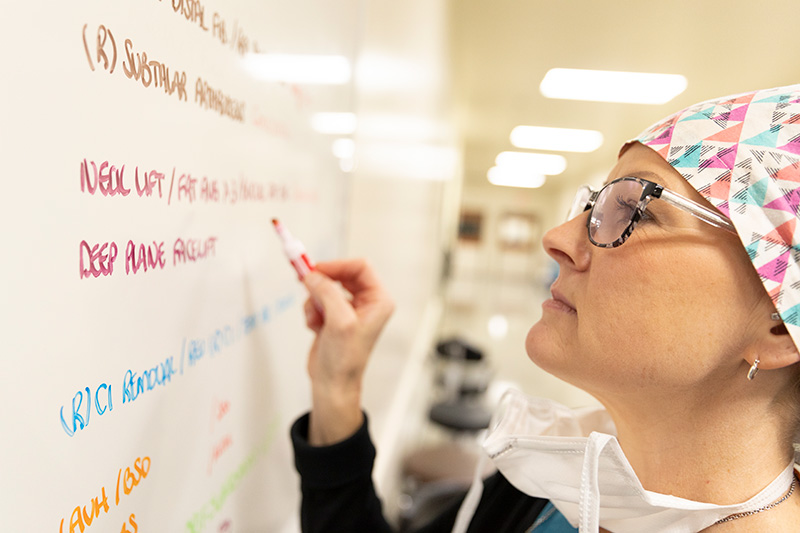 Find Your Comprehensive Procedure Price.
Surgery Center of Oklahoma was founded on a determination to be absolutely transparent and complete about surgery prices, because that's the only way to show true compassion and healing to our patients. Find your surgery and its comprehensive price.
Surgery
Anesthesiology
Follow-up Care
Surgeon Fee
Medication
Facility Fee
---
Combined in one price
Speak with Someone
Whether you have questions or are ready to schedule a consultation, we're here for you.
A Surgical Facility Unlike Any Other
We've made a name for ourselves by providing exceptional care, superior results and nearly unheard-of comprehensive, transparent pricing.